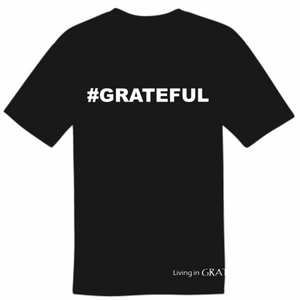 #GRATEFUL Tee Black 100% Cotton Man T-Shirt with White Accents
Customer FAV!
The #GRATEFUL Tee shirt Black 100% Cotton Man T-Shirt with White Accents is a stylish, comfy t-shirt that says, #GRATEFUL on the front in white letters and 'Living in GRATITUDE Today' across the side of the t-shirt. 
Dress it up or down! Wear it with a pair of shorts or jeans, under a blazer, or on top of a long sleeve shirt! 
Think It! Wear it! Be it!
Besides being extremely soft, this trendy, fashion-forward tee also has a great message! The #GRATEFUL T-Shirt reminds you and those around you of the power of Living in GRATITUDE Today! 
Wearing a #GRATEFUL V Neck T-Shirt:
Sets your intention for the day. 

#GRATEFUL becomes your superpower

Sends positive vibes out into the world

Starts great conversations 

Makes you focus on what you have

Causes people to smile 

Makes you want to do the happy dance
Care instructions
Wash inside out
Hang dry or low tumble dry
Buy Now!
Brings a Smile & Uplifts Everyone
How better to make others smile than for them to experience my shirt that says #Grateful. No matter how you feel, this shirt uplifts and gets you smiling. AND it's a reminder for me to stay in gratitude all day long.