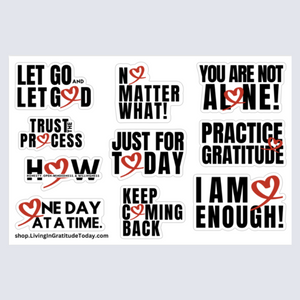 12 Step Program Stickers NA AA OA GA | One Day at a Time | Recovery
These 12 Step Program Sticker Sheets have 10 stickers. 
Let Go and Let God
Trust the Process
HOW (Honesty, Open-Mindedness, Willpower)
One Day at a Time
No Matter What
Just For Today
Keep Coming Back
You Are Not Alone
Practice GRATITUDE
I Am Enough
These stickers are white, black, and red. They do not contain any of the 12-step programs' symbols to protect your anonymity.
Details:
Contains 10 individual stickers

Dishwasher safe

Durable

Weatherproof

Sticker sheet size:   6 in. X  4 in 
Apply on a clean, dry surface.

Discounts if you purchase 3 or more of the same sticker sheet!